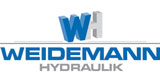 Weidemann Hydraulik GmbH
Success Story at Weidemann GmbH, Germany
"After initial teething problems which have been resolved by VEST within a few weeks time we are now using the software, thanks to specific enhancements, pretty smoothly for more than 2 years.
Using MDTools the quality of our designs have significantly improved. Formerly we designed manifolds with 2D AutoCAD and even the drawings always had been checked by a second designer the first block machined every now and then ended as scrap, due to design errors. Rectification work was frequently necessary. Now, even though we completely eliminated the checking by second designer, with MDTools we reduced design errors to almost zero.
Beside increasing the quality we now design 3 times faster. And many blocks, particularly those with many cartridges, can be designed more compact and cost-effective thanks to the 3D shading of MDTools.
Exchanging 3D files when the manifold has to fit on a machine part by far simplifies coordination with customers compared to the former 2D drawings.
Overall, MDTools has changed the manifold design process in a way we've seen 20 years ago when we replaced the drawing board by CAD."
Original German version:
Anwenderbericht zu MDTools730 der Weidemann GmbH
"Nach ersten Anlaufschwierigkeiten, die von VEST aber innerhalb weniger Wochen beseitigt wurden, z.T. in Verbindung mit für uns speziell konzipierten Anpassungen und Erweiterungen, arbeiten wir seit mehr als 2 Jahren weitestgehend problemlos mit der Software. Die Konstruktionsqualität ist durch den Einsatz von MDTools erheblich verbessert worden. Bei früheren 2D-Konstruktionen unter AutoCad kam es gelegentlich vor, das trotz Kontrolle durch einen zweiten Konstrukteur ein Block bei der erstfertigung durch Konstruktionsfehler nicht verwendbar war. Nacharbeiten waren relativ häufig.
Durch MDTools konnte die Kontrolle eingespart werden, trotzdem treten so gut wie keine konstruktionsbedingten Fehler mehr auf.
Die Konstruktionszeit ist gegenüber 2D-CAD auf ca. 1/3 gesunken, bei besserer Qualität. Viele Blöcke, speziell solche mit vielen Patronenbohrungen, können wegen der gegenüber 2D erheblich vereinfachten Darstellung im 3D-Modell deutlich kompakter und damit kostengünstiger konstruiert werden.
Die Abstimmung mit Kunden erfolgt häufig durch den Austausch von 3D-Dateien, was bei direkt an Maschinenelementen angebauten Blöcken wesentlich einfacher geht als der frühere Austausch von 2D Zeichnungen.
Insgesamt hat sich die Blockkonstruktion durch den Einsatz von MDTools mindestens so gewandelt, wie vor über 20 Jahren durch den Ersatz des Reissbretts durch ein CAD-System."